For the Board of Directors, please click
here
---
UNCOVERING your INNER STRENGTHS

$100
Essay and video challenge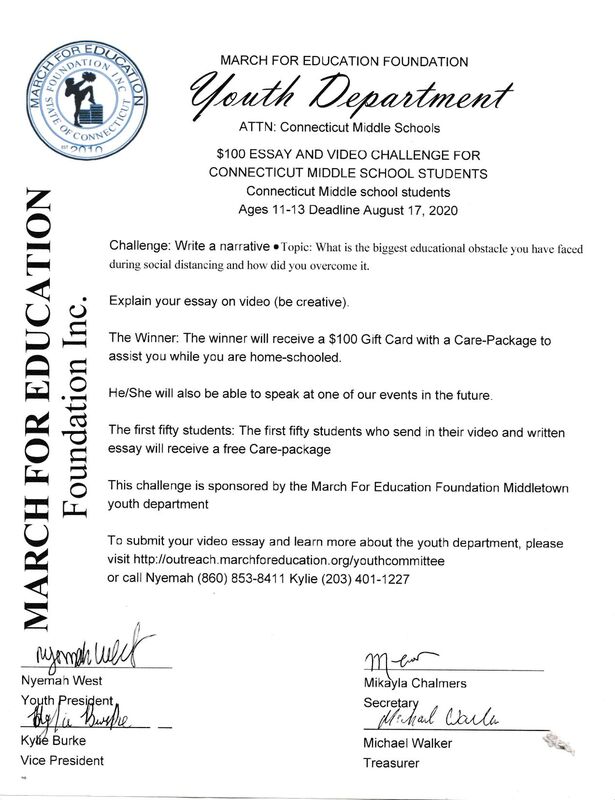 Connecticut Middle school students
Ages 11-13
DEADLINE: August 7, 2020

Challenge:
Write a narrative **Topic: What is the biggest educational obstacle you have faced during social distancing and how did you overcome it.
Explain your essay on video (be creative).
The Winner:
The winner will receive a $100 Gift Card with a
Care-Package
to assist you while you are home-schooled.
He/She will also be able to speak at one of our
events
in the future.
The first fifty students:
The first fifty students who send in their video and written essay will receive a free
Care-package
SUBMISSIONS

VIDEO INSTRUCTIONS


You can read it or explain it in your own words
Add specific details so the reader can understand
Hold camera horizontally while recording
You can use creative editing graphics or wording

Choose a written format that is legible and easy to read

ABOUT THE MIDDLETOWN STUDENTS

We have just developed our Middletown youth department serving the community to develop projects & programs for students while assisting in encouraging them to succeed in their dreams.

We are excited to work with these fantastic young people and hope they gain the experience to become our future positive leaders that will take us to the next generation of adults.

Let's meet the team

NYEMAH WEST
Middletown Youth President


Motto:
If your values are shallow,
then your victories will be empty

---
MIKAYLA CHALMERS
Youth Secretary


Motto:
Faith makes all things possible,
love makes them easy.

---
MICHAEL WALKER
Youth Treasurer


Motto:
Struggling is inevitable,
quitting is unacceptable,
when we all fight we all win.
You are never alone.

If you would like to share your products and/or service with students in need, please click
here
If you would like to support the mission of the youth department, please send donations to
March For Education Foundation Youth department
PO Box 851
Bridgeport CT 06601